P'Tham takes the string of bruised flowers from my hands and giggles. I'm attempting to thread jasmine and marigolds together to make a small devotional garland, the likes of which are sold from street stalls all over Bangkok. The petals fall off no matter how gently I ease through the thread and tying them together is a fiddly business, but women like P'Tham, in this densely populated area of the city, can expertly fashion up to 500 each day. I'm starting to realise how commonplace such entrepreneurial attitudes are among the 100,000 residents of Khlong Toei – Thailand's largest slum.
Thai law defines a 'slum' as any area with more than 15 houses built within 1600sqm, and 2.1 million Bangkok residents live in areas that fit this definition – a quarter of the city's population. But Khlong Toei attracts attention for its size and location: lodged between a busy cargo port and Bangkok's biggest wet market, which supplies freshly culled meat, fish and fresh vegetables to restaurants across the capital, it's also a stone's throw from Sukhumvit – Bangkok's prosperous commercial centre.
Khlong Toei has been a residential area since its port became a major commercial hub 50 years ago. It gained slum status at the same time and though the land has always been owned by the Port Authority of Thailand (PAT), low-income port workers received permission to build homes nearby. Yet last year the PAT announced plans to completely redevelop the area within the next decade, replacing its makeshift homes and alleys with high-rise condos and shopping malls.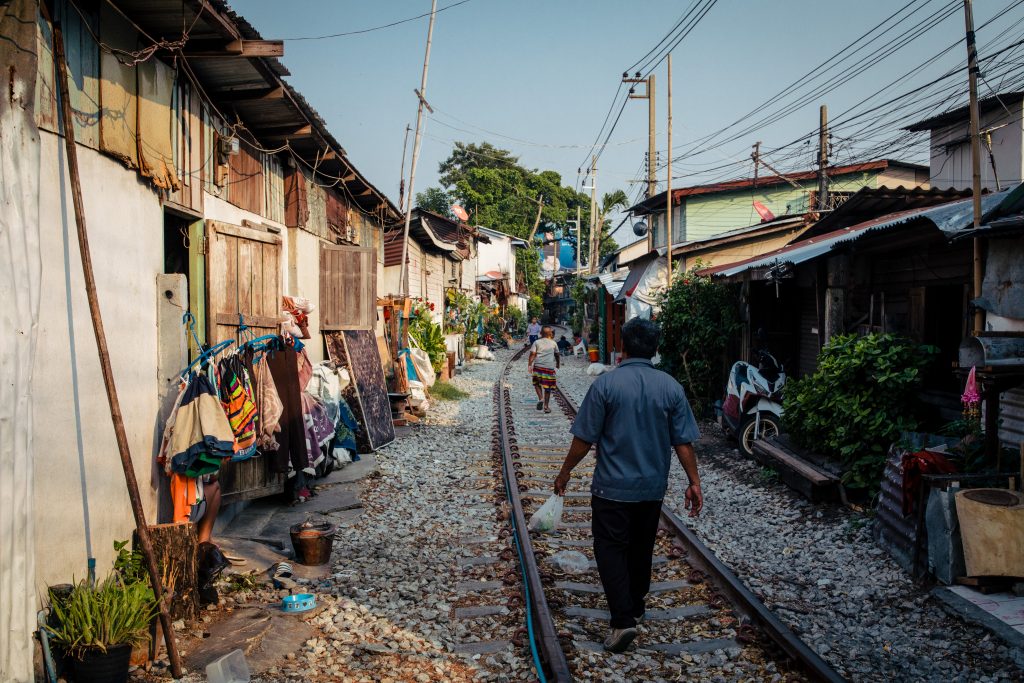 While community-minded renovation would be welcome, locals reject these proposals, which would lead to the mass eviction of residents. While some rehousing would take place, there wouldn't be enough accommodation for all, and the proposed 33sqm studios would be too small for most families.
But local organisations like the Duang Prateep Foundation, where I'm butchering marigolds today, have an ace up their sleeve in their current negotiations with the government. While the foundation has supported the local community for the past 30 years by improving its limited access to healthcare, education and necessities, it partnered with social enterprise Local Alike three years ago to begin hosting tourists on walking tours around Khlong Toei. Over the past two years, some 300 visitors have toured the area, from Australia, America, Southeast Asia, and Bangkok itself.
"Most Thai people have not been to Khlong Toei but they have a negative perception of it from the media," says P'Fai, P'Tham's husband. Born and bred in Khlong Toei, P'Fai runs the community tourism project, having volunteered in the area since he was 17. "We're using tourism as a tool to raise the area's profile internationally and get local people to redefine what they think of it."
We finish our garlands and set off on a neighbourhood tour with P'Fai. Beneath the beating midday sun, the narrow walkways of Khlong Toei are pleasantly sleepy. Under corrugated iron roofs, small houses are painted in greens, blues and reds. Shoes are lined up on tiled doorsteps, and through glassless windows, residents can be seen lounging barefoot watching daytime TV, hanging out laundry, laying offerings on homemade shrines. The humid air smells of floral washing power and cooking oil, as women deep-fry river fish in the open air, selling lunch from their porches to passers-by. Stray cats watch with beady eyes while canaries cheep from metal cages.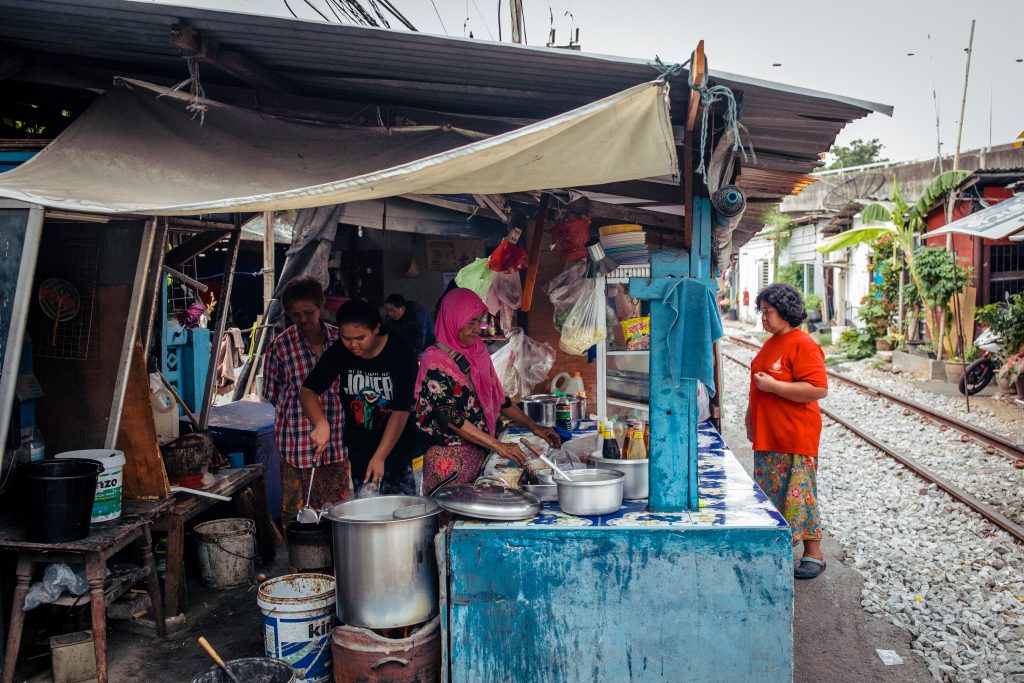 We stop at the home of P'Sai, one such cook who sells mango sticky rice from the front of her house and makes lunch for tourists on the Local Alike tour. "The tours are a good opportunity to show who we are to outsiders," she says. "More people feel welcome to come here. A few years ago no one would visit."
We continue down the warren of concrete-paved alleyways, passing teenage boys playing pool and a makeshift hair salon ("the cheapest haircuts in Bangkok," says P'Fai). We stop at the colourful, fabric-strewn home of P'Jan, a dressmaker who works on the community tourism committee.
"At first, I didn't understand why travellers would want to come here," she admits. "We have no mountains, no oceans – I didn't know what we had to sell. But when I saw how happy they were to interact with locals, I saw the value of our history and diverse culture."
Khlong Toei has not just been subjected to the dark consequences of poverty – crime levels dictate that it's still not recommended for tourists to visit after dark, or without an official local guide – but also the negative stereotypes that it brings. Yet thriving local businesses show how tourism can provide stable income to its residents. Local non-profit Sikkha Asia Foundation helped set up a sewing cooperative here called Feemue, which has trained up 40 people – most of whom now work in other nearby factories. Though it started out 29 years ago as a charity, Feemue evolved into an autonomous brand in 2016. Now, women at its six workstations stitch bags and handicrafts to be sold at boutiques, markets and malls all over Bangkok.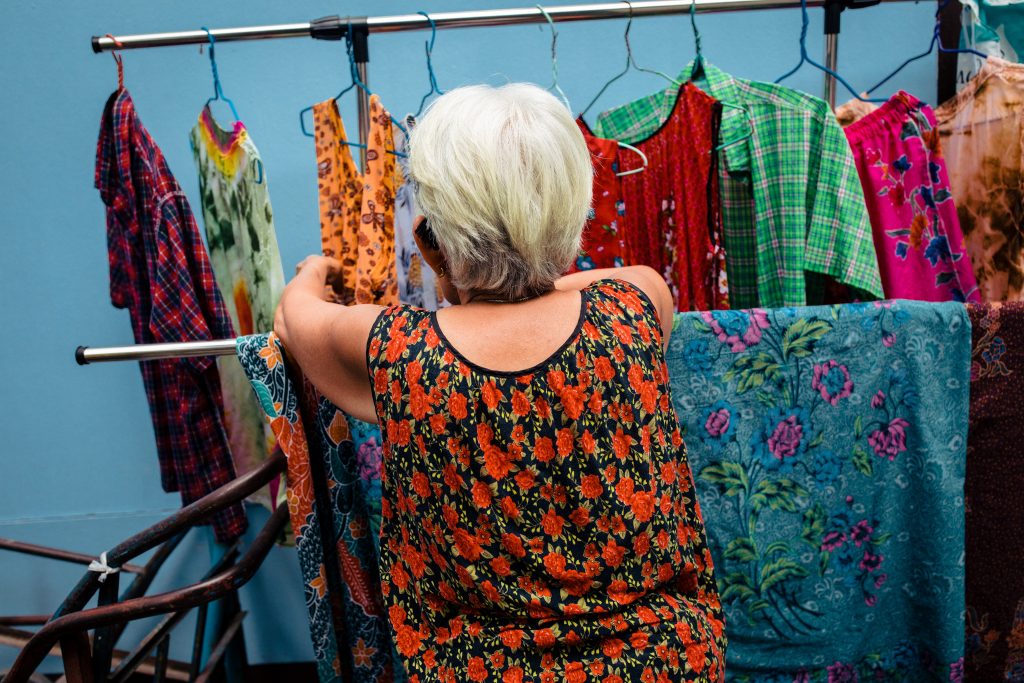 A few blocks away is, arguably, Khlong Toei's biggest success story. Eighteen years ago, a young woman called Khun Poo (meaning 'rose apple') would cook food on her doorstep every day to sell to the community. Local charity UNOH saw potential in her fiery personality and equally fiery food, and helped her fund a cookery school. For the past 11 years, Cooking with Poo has been almost constantly fully booked, teaching tourists to cook Pad Thai and Green Curry from Poo's home. Even Jamie Oliver has stopped by to learn her culinary secrets.
"When visitors come here, people in the area thank me," Poo says, cracking an egg into her Pad Thai noodles and stirring it with fish sauce, lime juice and a heaped spoon of sugar. "Every day we cook the leftover ingredients for our neighbours and everyone is so happy."
None of the 12 tourists on the cookery course are aware of Khlong Toei's redevelopment plans – which is, paradoxically, a win for this community. Businesses like Poo's are booming on their own merits, set apart from the sometimes-contentious concept of 'slum tourism'.
For P'Fai, this is the key to securing Khlong Toei's future. "Encouraging tourism is the way to create income for people in the area," he says. "At the start, government officials questioned the sustainability of tourism here, but they're starting to see what our people are capable of. My dream is that tourism will change their plans to redevelop Khlong Toei. I'm positive we can do it."
Three other social enterprise tours to check out
Meet female entrepreneurs, park rangers and Maasai villagers on Intrepid Travel's women-only trip to Kenya – and invest in their businesses with bead-making workshops, safaris and cooking classes.
Reality Tours & Travel is an ethical tour company in Mumbai's Dharavi, one of the world's largest slums. Tours include cooking experiences, street art and pottery workshops and invest 80% of profits into the community.
Near Arusha, Tanzania, Mto wa Mbu Cultural Tourism Enterprises provides sustainable income and environmental protection to the local community – and bike tours, cultural experiences and delicious meals to tourists.
While you're there: not to miss in Bangkok
Eat: Insects are a staple in Southeast Asian cuisine, and fine dining restaurant Insects in the Backyard elevates creepy crawlies to luxury status with white cricket tortellini, silkworm nachos and ant caviar.
Shop: A visit to Bangkok is incomplete without experiencing its night markets, and Artbox – which incorporates live music, street food and funky goods by local designers in shipping containers – is the trendiest.
Chill: Yunomori Onsen claims to be the first authentic Japanese spa in Thailand – and its combination of Thai massage techniques and different baths in healing, thermal spring water are hard to beat.